People want custom auto paint jobs for lots of reasons: A custom paint job can give a car its own unique identity, as well as a sense of newness to any car, no matter how old. It can also showcase the personality of the car owner, allowing you to choose something bold to make a statement, or something a little more subtle and refined.
It's easy to know why you want a custom car paint job. Of course, knowing what kind of paint job you want is an entirely different matter. With a variety of custom paint jobs available, it can be hard to choose (let alone know all your options).
When custom paint jobs look their best, is when people understand more about what makes them custom paint, and what makes a custom paint job look amateur. A good thing to remember is using warm tones with cool tones can often turn out bad. A few years ago, one of the car companies made a light blue car, and put an orange "ghost pearl", on top of it. This made a hideous color that no one liked. When you look at warm tones, it makes sense to use them over other warm tones. Ghost pearls differ from Candy Pigments, as the actual particles of ghost pearls are transparent, and only reflect color in the sun.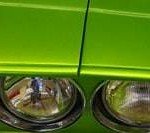 We have noticed one instance in which warm colors look good on top of cool colors. The use of green or turquoise always looks good in combination with each other. Yellows and greens look good together in almost every custom paint combination you can think of. Both combinations turn out great. With the amount of material that you will need to produce these effects, you can easily do an entire car.
You may have a theme or favorite sports we love those types of cars and trucks! Give us a ring when you are ready to begin your project.